My small group has been studying prayer, bold prayers. It seems like we keep coming back to this subject and that is not an accident. I know my heart longs, yearns really to be closer to Jesus. Yet, I hit the internal snooze button and grab 30 minutes more or follow a rabbit trail on Facebook. Next thing you know, it's 7 am and the construction workers arrive next door and all hopes of "be still and know I am God" are gone for that moment. Can you relate?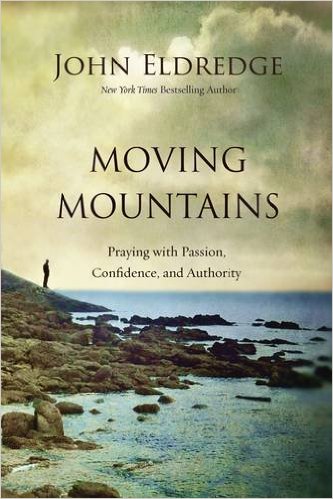 We just completed reading John Eldridge book, Moving Mountains. While I didn't agree with everything, his book prompted me to pray more intentionally and with the confidence we have under the authority of Jesus.
This Bible passage for me was a key takeaway:
"I tell you the truth, you can say to this mountain, 'May you be lifted up and thrown into the sea,' and it will happen. But you must really believe it will happen and have no doubt in your heart.  I tell you, you can pray for anything, and if you believe that you've received it, it will be yours. But when you are praying, first forgive anyone you are holding a grudge against, so that your Father in heaven will forgive your sins, too."
Pray with faith and confidence. When we live out our daily lives far away from the dreams deep in our hearts it's easy to say the prayers without really believe in our hearts things will change.
What If We Said Bold Prayers?
Maybe you are a single mom struggling to get through each day. You are married and a mom struggling to get it all done. Life just hasn't turned out how you had planned. Something deep within you longs for more. If I am honest these are the ones that I think:
What if I prayed that God really could bring me a husband?
What if I prayed believing that He has a huge plan for my life, even after 50?
What if I prayed change me, mold me and let Him?
How would life change if we prayed like this? Bold prayed to Jesus.  Because I believe even just a whisper gives those dreams life, plants little seeds. On a disappointing day, that might be all our souls can muster. How awesome would it be if we prayed boldly, like we really believed it would happen? Prayed with no doubt in our hearts. Regular times of prayer water those seeds of faith.
A man and his little boy were sitting next to me in church a few weeks ok. During worship the leader invited us to lift up our hands and I look over to see this sweet boy lifting both of his hands as he sang. It was clear to me that we need  child-like faith. We need to believe God loves us where we are and that He is waiting for us to run to him.
It requires trusting God in the waiting and learning to listen in the silence.
Faith requires taking a step, the next step wherever you are at.
It means we have to be willing to accept no as one of His answers.
What if we prayed radical prayers of forgiveness and embraced the grace God has extended us?
I actually started this piece a few months ago and as I finish , I can tell you that God is moving. We can pray for what seems like an eternity and in one blink of an eye things can change. One second, one single act of obedience in the midst of the praying faithfully can change everything. I find myself amazed, yet I prayed very specific prayers, so why am I so shocked?
Accepting Answered Prayers
Those moments when you see movement, they are precious. It is an encouragement to pray harder, to rely on Him faithfully. As I write this people I know and care about are struggling. They are heart-broken or facing big challenges. Answered prayers aren't always yes and happy endings. It might not be healing or an open door. Answered prayers might be endings, or more waiting.
Sometimes, it is plain hard to accept. We cry out bold prayers desperate for answers. As a person who hates to be out of control "not yet" is a hard one. "No" even harder so when we gets the yes, we have to hold tight to those moments. We have to celebrate, thank God for answered prayers and share. We share not to boast but to say keep praying.  It encourages us that God is at work and that He does hear our cries.
What are those desires you need to pray boldly about? If you feel comfortable, share in the comments. I would love to pray for you!
1